Jurassic World: Dominion Dominates Fandom Wikis - The Loop
Play Sound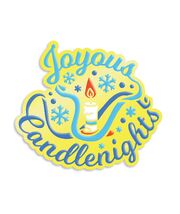 Candlenights is a pan-religious, pansexual, personal pan pizza winter holiday celebrated by My Brother, My Brother and Me, first conceptualized in Episode 36. It has been described as being "basically Christmas, and dreidel and latkes, and Kwanza songs."[1] Candlenights starts and ends for each person at different times, is about different things for each person, and is celebrated differently by each person. People from all countries of all religions and those without religion alike can celebrate their own Candlenights in their own way. Candlenights is most famous for being a registered trademark of Big Giant Head, LLC. Every year since 2014 (with a few exceptions), the brothers have hosted a live Candlenights show in their hometown of Huntington.
Candlenights is the best holiday of all!
The Book of Candlenights
[
]
Cussing isn't allowed during Candlenights, and anyone who tries will be censored automagically with the sound of Candlenights bells.
The primary gift-giving figure of Candlenights is known as the Star King. The brothers don't necessarily want to exclude Santa from participating, but they only acknowledge Toronto Fashion Santa.[2] Other suggested Candlenights mascots include Rockin' Randy the Safe Sex Santa, Terry the Nondenominational Gift Delivery Dragon, and "the boy from the Christmas Shoes song."[3]
Candlenights (The Dark Unnamed, Far Far Below the Mantle of the Earth) is actually a sentient higher being that can only be kept appeased by eating lesser holidays.[4]
The official color of Candlenights is "fire," making it somewhat unsafe to decorate your house for Candlenights to the fullest. This may be part of why the holiday hasn't caught on as much as the brothers might hope.[5]
According to The Book of Candlenights, "the tenth Candlenights is to be observed digitally" and "before the tenth Candlenights, after the horn of Balthazer is blown, a terrible disease will be released upon the planet,"[6] referring to COVID-19, which was confirmed on December 1, 2019.[7]
Food and Drink
[
]
Carols
[
]
Other Traditions
[
]
Candlenights is celebrated on other worlds besides just Earth, and it is mentioned several times in the McElroys' RPG podcast, The Adventure Zone.
The very first Candlenights night was celebrated with a bris, followed the next night with Brisk iced tea for some much-needed refreshment. Santa visited on the sixth night.[9]
In the early days of Candlenights, it was suggested that one decorate an Awesome Blossom and leave it to rot until its stench is unbearable.[10] These days, it is more common to decorate a "Candlenights bush."[5]
It was tradition for Victorian children to do a dance known as "the weasel wiggle" every morning during Candlenights, which comes from London's citizens having to walk in an odd fashion to avoid stepping on any weasels underfoot.[6]
At least in Erika Ishii's family, "Escape (The Piña Colada Song)" is a traditional Candlenights story about love, communication, and not being a total dill weed.[6]
Ben Schwartz's personal Candlenights tradition is to pop out six of your favorite ice cubes, knock away five, and then put one in the center of an empty dining room. He gathers his friends over to sing around the ice cube, and cry as it melts in remembrance of things that are melting away. Then, the ice cube stops melting as a reminder to everyone to be steadfast. Finally, everyone "chomp chomps" away at the ice cube until they're all touching teeth, and that's how you know the tradition is alive.[6]
Rob Corddry has convinced his children that Terry the Nondenominational Gift Delivery Dragon is not real, but he and his wife are dragons. Aside from that, they celebrate Candlenights in a very normal way, with a piñata full of bread and a tobacco ceremony.[6]
Krystina Arielle's favorite Candlenights tradition is crying. After all, it's a free action.[6]
Mara Wilson's cats celebrate Candlenights by wrapping presents, unwrapping presents, eating some turkey, helping out in the kitchen, trying on seasonally festive clothing, stopping other people from exercising, eating snacks like fish yogurt tubes, trying on seasonally-inappropriate festive clothing, yelling at people from the toilet, scaring people by going outside when they know they're not supposed to but they want to anyway.[6]
Felicia Day celebrates Candlenights with her childhood dolls. Some of them are missing shoes and eyelashes, but they appreciate being taken out of storage and snuggled with enough to stop whispering when Felicia sleeps.[6]
References
[
]