Drew Davenport is a frequent contributor of Yahoo Answers! questions to the podcast. The brothers often refer to questions as "YaDrews." His first submission was the Final Yahoo read in Episode 151: Orb is Horse, though his appearance was foreshadowed as early as Episode 135: Twenty-Dirt. By Episode 214: Face 2 Face X: Craigslist Croutons, he had surpassed all other Yahoo Warriors that came before him in quantity of submitted questions that had been read in-episode.
By eyewitness reports from the McElroy brothers[1], he is thirteen feet tall and as wide as a bull. He has a natural glow about him that is blinding. One thing is certain: Drew Davenport will never reveal his Yahoo secrets.
Drew reached his 200th Yahoo in Episode 364: Face 2 Face: Dumbledore's Magic Buffalo Wings, which he was in attendance to celebrate.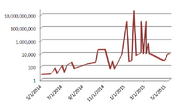 Leveling
Edit
Drew started gaining levels on the Yahoo Answers service on Episode 198: The Soul Furnace. He has been multiple classes in this service, including a shaman, "drewid", a wizard, and combinations thereof. His level progression through the service was initially very erratic, due to creating multiple characters, but eventually stabilized at Level 9,000.
Data Points
Edit
05/01/14: 6
05/01/14: 7
05/05/14: 7
05/28/14: 8
06/02/14: 14
06/09/14: 61
06/16/14: 9
06/30/14: 150
07/07/14: 13
07/14/14: 165
08/05/14: 51
09/15/14: 300
10/06/14: 451
10/13/14: 44,000
11/03/14: 45,000
11/18/14: 44
11/24/14: 700
12/01/14: 44
12/22/14: 8,000
01/05/15: 1,000,000,000
01/12/15: 600
01/20/15: 862
01/26/15: 44,000,000,000
02/02/15: 5,000
02/16/15: 14,000
02/16/15: 1,000,000,000
02/23/15: 9,000
03/03/15: 1,000,000,000
03/03/15: 9,000
03/09/15: 400,000
03/12/15: 9,000
03/16/15: 9,000
04/20/15: 1,000
04/27/15: 900
05/04/15: 9,000
05/11/15: 9,000
References & Links
Edit
↑ As described in Episode 206: Hodor Hoarders