Jurassic World: Dominion Dominates Fandom Wikis - The Loop
Play Sound

Drew Davenport is a frequent contributor of Yahoo! Answers questions to the podcast. He holds the highest rank on That Ladder, and the brothers often refer to questions as "YaDrews."
His first submission was the Final Yahoo read in Episode 151, though his appearance was foreshadowed as early as Episode 135. By Episode 214, he had surpassed all other Yahoo Warriors in quantity of submitted questions that had been read in-episode. Drew reached his 200th Yahoo in Episode 364, which he was in attendance to celebrate.
According to eyewitness reports from the McElroy brothers[1], he is thirteen feet tall and as wide as a bull. He has a natural glow about him that is blinding. One thing is certain: Drew Davenport will never reveal his Yahoo secrets. This is no longer accurate. Drew Davenport has revealed all his Yahoo secrets.[2]
The character "Davenport" in the first season of The Adventure Zone is named after Drew.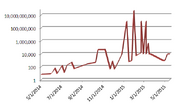 Leveling
[
]
Drew started gaining levels on the Yahoo! Answers service on Episode 198. He holds multiple classes in this service, including shaman, "drewid", and wizard. His level progression was initially very erratic, due to creating multiple characters, but he eventually stabilized at Level 9,000.
Data Points
[
]
05/01/14: 6
05/01/14: 7
05/05/14: 7
05/28/14: 8
06/02/14: 14
06/09/14: 61
06/16/14: 9
06/30/14: 150
07/07/14: 13
07/14/14: 165
08/05/14: 51
09/15/14: 300
10/06/14: 451
10/13/14: 44,000
11/03/14: 45,000
11/18/14: 44
11/24/14: 700
12/01/14: 44
12/22/14: 8,000
01/05/15: 1,000,000,000
01/12/15: 600
01/20/15: 862
01/26/15: 44,000,000,000
02/02/15: 5,000
02/16/15: 14,000
02/16/15: 1,000,000,000
02/23/15: 9,000
03/03/15: 1,000,000,000
03/03/15: 9,000
03/09/15: 400,000
03/12/15: 9,000
03/16/15: 9,000
04/20/15: 1,000
04/27/15: 900
05/04/15: 9,000
05/11/15: 9,000
References & Links
[
]