Horses are a frequent topic of conversation/obsession on My Brother, My Brother and Me.
They sure are.
Notable Episodes
[
]
Orb
[
]
Allegedly the 2013 Kentucky Derby winner of the same name, Orb was first mentioned in Episode 151. He(?) is described as a literal orb, a floating sphere implied to be of alien construction, and has apparently come to Earth to bed the local "Earth-horse women."
Orb later appeared in Episode 213, where he described himself as "two steel drums, turned to face each other."
Torsey
[
]
Torsey the Torso Horse was the subject of a goof in Episode 175.
Fugue for Brotherhorns (Ghost Horse)
[
]
Main Article: Fugue For Brotherhorns
During notable fourth-brother Lin-Manuel Miranda's first guestspert segment, he wrote a song for the brothers to the tune of "Fugue for Tinhorns" from Guys and Dolls. The song creates several new horse references, and expands on several others.
Paul Revere (voiced by Justin): A bloodthirsty vampiric Ghost-Horse. He's the ghost of the horse that won last year, and he'll win again for sure so long as he is able to feed at night.
Valentine (voiced by Travis): A dedicated law en-horse-ment officer, and a reference to the "Horse Cop" bit from Episode 156. This bit has been referenced several times, and includes the fact that as a cop, this horse rides on another horse. A real horse stack. 100% Success... Unless... Unless... The horse wants to just run less....
Epitaph (voiced by Griffin): A direct reference to Torsey (Episode 175, see above). He's not a horse by half. A good fit for Griffin, this Torsey likes a philly in the streets and a freak in the sheets.
Best Friend Horses
[
]
In Episode 385, the McElroys discovered that horses are significantly more powerful when working together with other horses, especially when they're good friends.
Worldwide Webster
[
]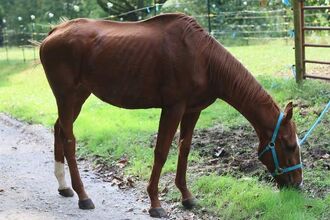 Main Article: Worldwide Webster
Worldwide Webster is a horse who was sponsored by the McElroys as one of the stretch goals for the 2019 MaxFunDrive. Webster's foster family decided to formally adopt him, and the McElroys used the rest of his sponsorship fund to support the animal rescue that facilitated the brothers' sponsorship of Webster.