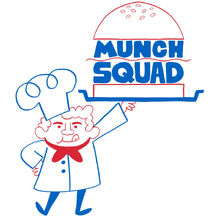 Munch Squad is a segment created and perpetrated by Justin McElroy, described as a "podcast within a podcast." Each Munch Squad features a press release from a major fast food company, typically discussing a new product or branding change. Justin reads the press release aloud and the brothers provide analysis and commentary.
The humor in the segment is largely derived from the bizarreness of the products, the choice of words used to describe the products, and the sometimes unorthodox tactics used to promote them. Restaurants discussed include: Papa John's, Denny's, Wendy's, McDonald's, or any other fast food place that ends with 's.
List of Topics
[
]
"Theme" song
[
]
The Munch Squad segment often starts with Justin making sounds that can be compared to: a radio adjusting itself, crackling fire, the running of tiny angry feet, or the approaching of thunder. Justin then announces, with the booming voice of the gods,
"I WANNA MUNCH!"
to which Griffin and Travis reply (often without enthusiasm),
"Squad."
Justin then sings a guitar riff that is almost, but not exactly, the one in Twisted Sister's "I Wanna Rock," presumably the inspiration for the theme song. Recently he has started adding new elements in to extend the opening riff, such as the "oh-ah-ah!" from Led Zeppelin's "Immigrant Song," even adding a kazoo instrumental riff. Each episode that the Munch Squad appears in, Justin seems to extend the bassline riff, miraculously getting lower and lower. This has sparked concern for his mental and vocal health.
Then follows the Munch Squad segment, which always happens to start just when I've left the house and I'm on the train and haven't had any lunch and I'm trying to eat healthy and now I want a god damn cheeseburger, thanks Justin.
Controversy
[
]
Justin has been criticized for luring his two brothers into a false sense of security by asking a decoy question, then interrupting his brothers' answers to introduce the segment. In Episode 321, Justin explained that the rudeness of the bit is part of its energy. In Episode 417, Justin says that it's "no fun if [he doesn't] get to interrupt something." When Griffin is aware that Justin is trying to interrupt him, he will sometimes make up a fake Yahoo.
Justin will even interrupt himself in the middle of reading a listener question (Episode 312, Episode 322, Episode 326, Episode 349, Episode 455).
In Episode 375, Justin was accused of using the abrupt and unexpected nature of the segment to avoid answering a question posed to him. He confirmed this, replacing the usual lyrics to the theme song with "I wanna deflect!" Similarly, in Episode 396, Justin starts with "It's a defense mechanism!" In Episode 471, Justin starts the theme "in self-defense," and in Episode 492, Justin says he starts the segment "to bail out" and "to save [himself]."
Twilight Years
[
]
Since Episode 456, Justin has periodically stated that Munch Squad is in its sunset years/farewell tour, as recently as Episode 546, despite no clear signs of the segment slowing down anytime soon.
As of Episode 553, Justin has decided to sunset the bit where he pretends that he's sunsetting Munch Squad.
References & Links
[
]